Discover The Effectiveness of WhatsApp Marketing in Cyber Week Sales
WhatsApp is a direct way to reach customers. Festival seasons like Black Friday and Cyber Monday are the best shopping periods. During these seasons, businesses need to market their products to a targeted audience. The best way to reach your target audience is through WhatsApp marketing, as it enables personal connections. It is the most effective way to reach your target audience and deliver a more personalized experience than other marketing channels.
What is WhatsApp marketing?
With over 2 billion active users worldwide, WhatsApp has become a highly popular communication tool. The term "WhatsApp marketing" refers to the practice of using this messaging application for marketing or promotional purposes. Businesses can leverage features such as broadcast messages to promote their products, services, or brands. However, it's essential to comply with privacy and anti-spam regulations while implementing WhatsApp marketing strategies to engage effectively with the target audience.
How WhatsApp marketing helps the business
WhatsApp marketing is a powerful tool to promote your products or brand on the widely used messaging platform, WhatsApp It offers a simple and effective way to reach a large, targeted audience by allowing you to send marketing campaigns using your personal WhatsApp number. This approach enables you to stay connected with your customers, as most WhatsApp users check the app daily, ensuring that your offers reach them effectively.
Benefits of WhatsApp Marketing
1) Customer communication
Businesses can use WhatsApp to communicate with customers, answer queries, and provide support, fostering personalized interaction.
2) Cost-effective
WhatsApp is an affordable marketing channel, It is a very cost-effective marketing tool.
3) Easily Reach the target audience
WhatsApp's messaging broadcasting feature allows for effective marketing to a target audience with just a single click.
4) Effective marketing
In comparison with other marketing tools, WhatsApp marketing is more effective at attracting customers
5) Secure business messaging
WhatsApp ensures secure communication between businesses and customers with end-to-end encryption, which is necessary for building trust.
6) 2-way interaction
Interacting with customers and responding to their inquiries should be made easy.
7) High open and click rate
Compared to email marketing campaigns, WhatsApp marketing has a higher open rate. This is because WhatsApp users check the app frequently, leading to more open messages.
8) Feedback and Surveys
Companies can use WhatsApp to gather customer feedback and conduct surveys, allowing them to receive valuable insights to improve their products and services.
9) Product catalog
A product catalog is a detailed listing of a business's products, including descriptions, specifications, and prices. It provides customers with the necessary information to make informed decisions about what to purchase
Some Examples of WhatsApp marketing
Businesses can use WhatsApp for marketing by sending festival offers and updating customers.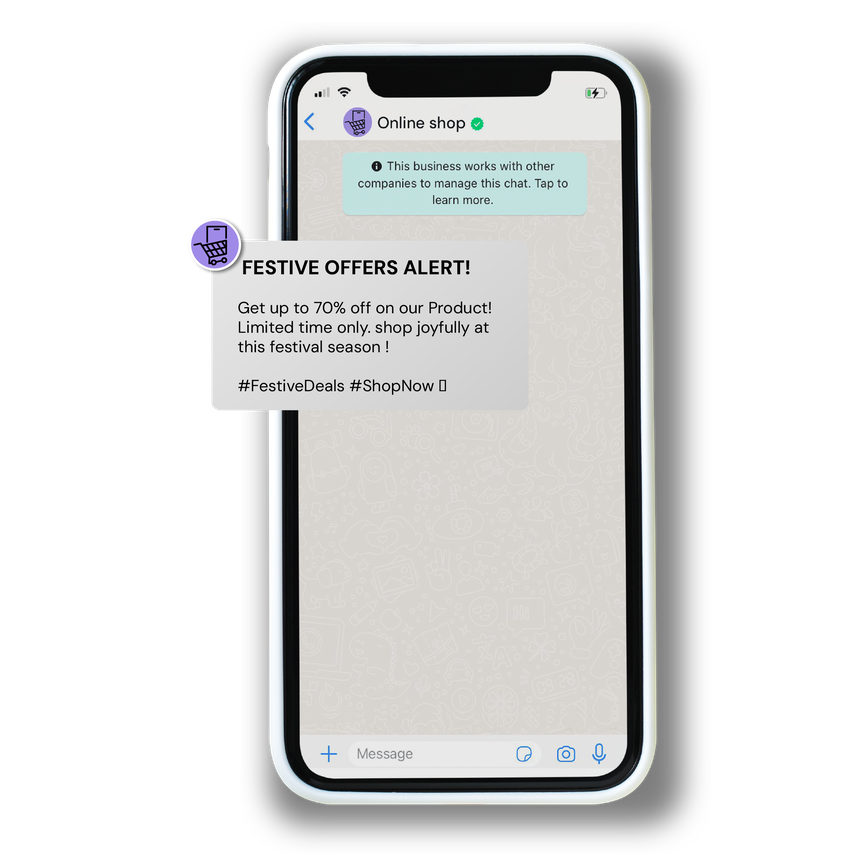 Another example is sharing new product updates over WhatsApp.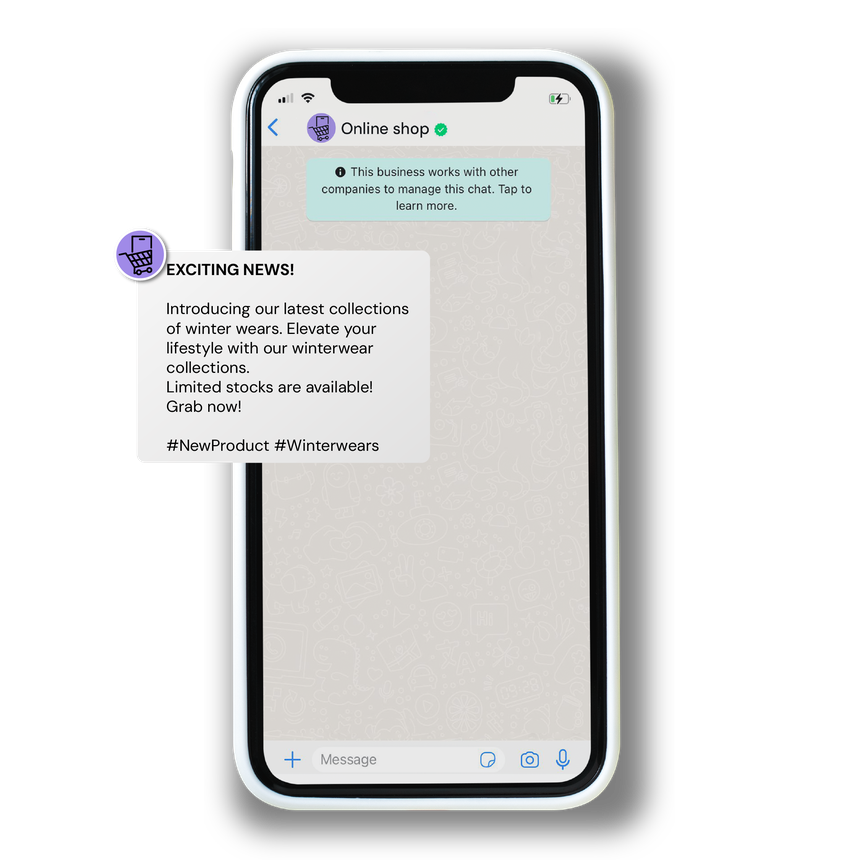 Stay connected with your customers by engaging in two-way interactions and promptly responding to their inquiries.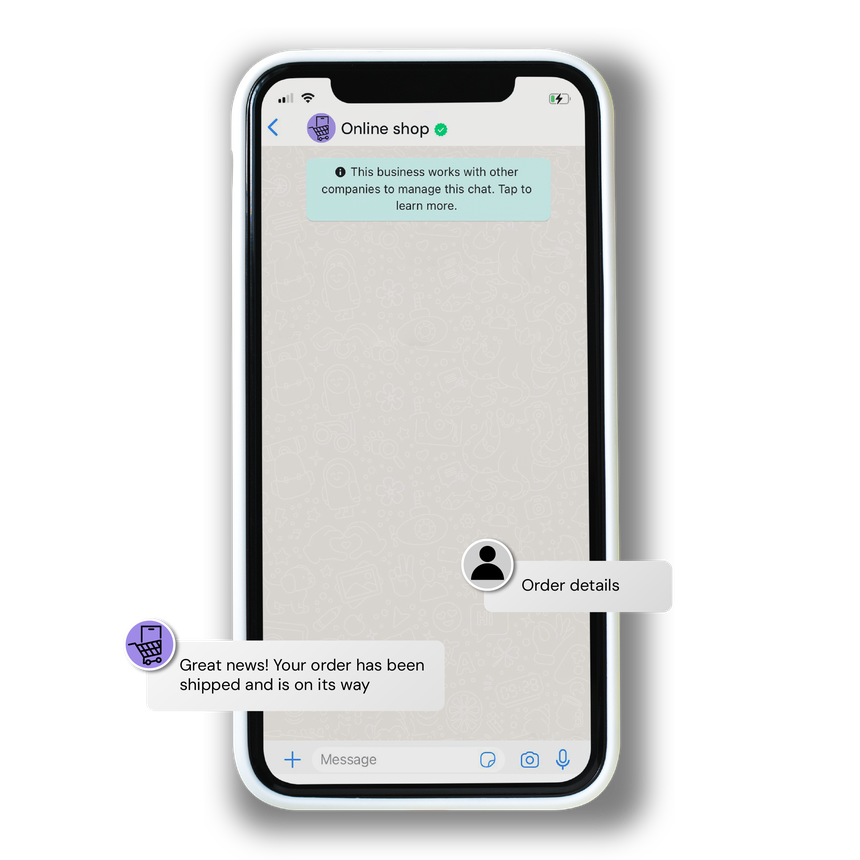 Marketing has become a crucial part of our lives, especially during festival seasons like Black Friday and Cyber Monday, which can significantly boost sales. To reach customers and promote products effectively, businesses need to leverage modern marketing tools like WhatsApp. WhatsApp marketing is one of the most efficient ways to communicate with your target audience and share marketing ideas. It allows businesses to update customers about new products, offers, and sales-related matters promptly. Since WhatsApp is a personal medium, it provides a unique opportunity for businesses to connect with customers in a more personalized way.