Secure Your Cash on Delivery Sales with Two Factor Authentication
Why should e-commerce companies verify COD (Cash on Delivery) Orders?
COD is the lifeline for most E-Commerce companies. However, the occurrence of unwanted, fake, and accidental orders and product returns is high, which leads to operational losses. Here comes the importance of customer authentication before placing an order.

Why is COD (cash on delivery) the most accepted method in the e-commerce industry?
The most popular mode of payment for any e-commerce store is Cash on Delivery (COD) because customers do not like to pay anything before the products are in hand. It provides online shoppers with the security and assurance they need. Moreover, there is a flexible payment option for customers, and they should not depend purely on cards. And the fear of online fraud can be avoided.
What is the most difficult challenge for e-commerce businesses in implementing COD?
Though it is beneficial to consumers, it is a significant challenge for any e-commerce business. The occurrence of unwanted, fake, or accidental orders and products returned is high, leading to operational and logistical losses and occasionally product losses. The RTO (Return To Origin) rate is high in the e-commerce business.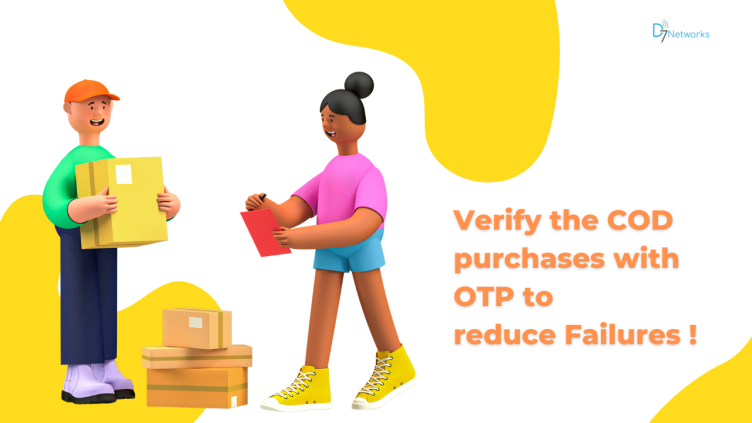 How can we reduce the RTO (Return to Origin)?
Here comes the importance of customer authentication before placing an order. Verifying the customer's mobile number gives assurance that the orders are legitimate. Verification can be done by sending an OTP (One Time Password) SMS code to the customer's mobile number, and they have to enter that OTP before proceeding to order confirmation. If a customer puts in the correct OTP, only then are they allowed to place an order. Moreover, customers enjoy the experience of authorizing the order.

How does the D7 Verification API help verify the customer?
D7's Verification API is simple, automated, cost-effective, and instant.Code generation and verification can be completed in the blink of an eye. Our system allows you to make the entireOTP generation and 2FA Authentication process automated, ensuring ease and security all at once. It gives your business that extra touch of security needed in today's cyber-threat-ridden world.

For more details, visit www.d7networks.com.