Unmatched Role of SMS in Disaster Response
"IN CRISIS MANAGEMENT, BE QUICK WITH FACTS, SLOW WITH THE BLAME." -LEONARD SAFFIR

LEONARD SAFFIR
Why does SMS have a crucial role in crisis management communication?
SMS is considered the best alerting system during a crisis. It is considered the simplest and most effective communication channel during a crisis and plays a vital role in sending essential notifications and alerts to citizens during pandemics, climate disasters, terrorist attacks, and any sort of crisis. It also promotes preventive behavior among the public during epidemic outbreaks.
In the event of a crisis, timing is everything. SMS is an effective tool to rapidly disseminate information. It is the perfect channel for time-critical delivery and takes action in minutes, ultimately allowing you to focus on saving lives.
Moreover, it works on all mobile phones, regardless of location or network type. As SMS messaging takes place offline, relying on Wi-Fi or 5G is unnecessary. In a natural disaster, this connectivity might make all the difference.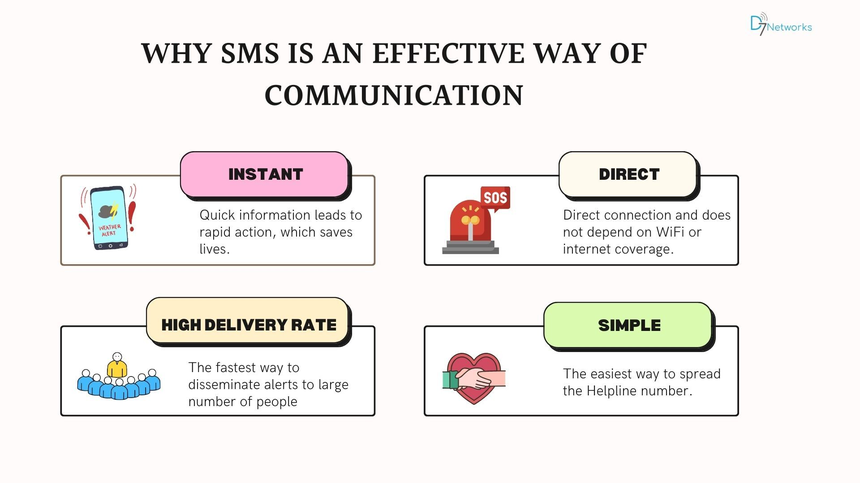 How does SMS help in crisis communication?
Pandemics:
The government and relief organizations can send real-time alerts and updates to citizens' phones and keep them updated all the time. With the COVID-19 crisis, governments all over the world have turned to text messages as the most efficient channel to send real-time updates to their citizens and update them with relevant information. It also promoted preventive behavior among the public. WHO, along with ITU and UNICEF, made information about Covid-19 available through SMS to those without access to the Internet or a smartphone
Natural Disaster
SMS can be an invaluable tool for communicating emergency notifications and alerts during any natural disaster. Whether there is an upcoming weather threat (fire, volcanic eruption, tsunami, earthquake, flooding, excessive snow, hail, heatwave, hurricanes, or tornadoes), alerts can be sent via SMS to keep people safe and informed. These messages also outline emergency procedures, areas to avoid, evacuation procedures, relief sites, pick-up points, and other safety measures that must be followed to stay safe.
It aids in crisis response and allows life-saving messages to reach people quickly. 82% of text messages are read within 5 minutes, making SMS the ultimate communication channel during emergencies.
For example, the UAE government has implemented the National Early Warning System (EWS) project, which started in 2017, to ensure the safety and protection of all individuals—citizens, residents, and visitors of the UAE and their property. The EWS involves sending SMS to people to warn them of dangerous weather conditions and instruct them on procedures to be followed to stay safe.
Relief Efforts
SMS is being used by relief organizations to notify the affected community and enlist volunteers. These SMS may contain all the relevant information, including toll-free helpline numbers, transport options, what supplies volunteers can bring, etc. It is the best channel to make announcements and updates to a large crowd staying in relief camps.
In many underprivileged communities where food parcels are needed regularly, many NGOs are using SMS to coordinate these deliveries and stay in touch with volunteers.
In cases where organizations need extra funding, bulk messages are sent to relevant contact groups, asking for donations. This provides a way to generate funding quickly in response to disasters or emergencies.
Terrorist attack
Effective risk communication is a crucial responsibility of leaders and emergency responders before, during, and after an attack. Whether there is a fire or explosion, a bomb scare, a gunman, or an armed person on the loose, an automated SMS is sent to all citizens, telling them of the impending threat.
Mobile communication devices are increasingly being used for information sharing, real-time coverage of events, dissemination of information to family and friends about an emergency, location and safety updates of family members and other loved ones, and directions away from disaster sites
D7 Networks is a one-stop shop for SMS APIs
Our Simplified API supports normal as well as Unicode message text for your single or bulk messaging requirements. You can customize our SMS API to suit your requirements and format it as accepted by the mobile platform country-wise.
Time and text do not wait for anyone!
With the help of D7, you're guaranteed a speedy delivery, especially in crisis communication.D7 Networks follows best practices and direct connections to ensure a high delivery rate, and it has global coverage around the world.

For more details, log on to www.d7networks.com